Europe - Norway - Hedmark
Trysil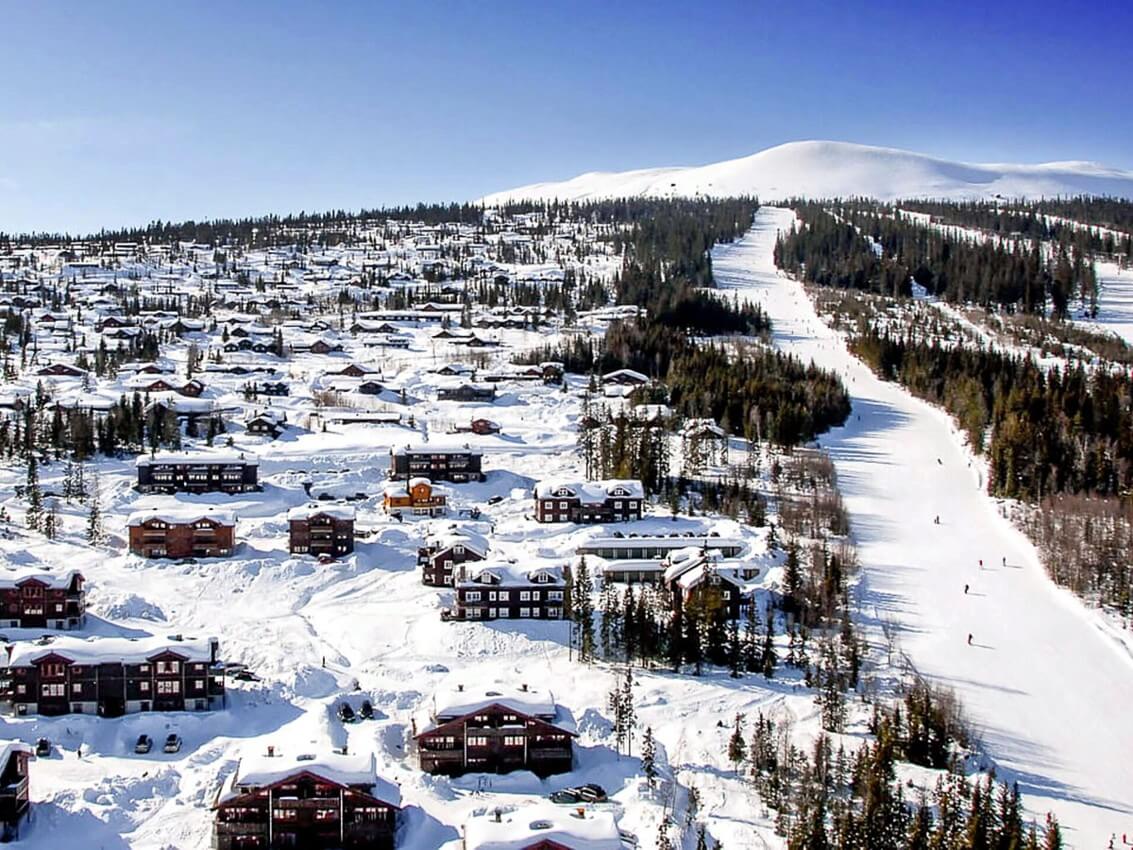 Winter news in Trysil 19-20
In preparation for winter 2019/20, Trysil's well-groomed slopes will be widened and slow-making facilities will be installed, providing an even better skiing experience. Moreover, a new, large restaurant will open – perfect for replenishing your energy.
10/28/2019
This winter's new developments in Trysil
Trysil, with its modern international twist on everything from ski lifts and slopes to lodging and amenities, is continuing to develop the Skihytta ski area. For the 2018/19 season a new children's ski lift is being built, along with two new children's slopes
10/09/2018
New express lift to the top of the mountain
The construction of a new six-seater express lift from Skihytta to the top of Trysilfjellet mountain is now completed, and the lift is open. The Skihytta Ekspress lift is an amazing boost to skiing in this area.
TOP ski resorts
| Resort name | zemynai | salys | regionai | Slopes | Lifts | Prices | Après | Town | Children | Snow&nbsppark | Off&nbsp-&nbsppiste | Best | Votes |
| --- | --- | --- | --- | --- | --- | --- | --- | --- | --- | --- | --- | --- | --- |
| Achenkirch | Europe | Austria | Tyrol | 4 | 3 | 4 | 3 | 3 | 4 | 4 | 3 | 3.5 | 3 |
| Alpbach | Europe | Austria | Tyrol | 4.6 | 3.8 | 3.4 | 2.9 | 3.5 | 4.38 | 3.5 | 4 | 3.76 | 10 |
| Axamer Lizum | Europe | Austria | Tyrol | 4.3 | 3.9 | 3.4 | 3.1 | 3 | 4.5 | 3.67 | 3.57 | 3.68 | 10 |
| Berwang | Europe | Austria | Tyrol | 4.33 | 2.67 | 3 | 3 | 3.67 | 5 | 2 | 2 | 3.21 | 3 |
| Ellmau | Europe | Austria | Tyrol | 4 | 4 | 3.5 | 2.5 | 2.5 | 4 | 0 | 0 | 3.42 | 2 |
| Going | Europe | Austria | Tyrol | 4 | 3 | 3 | 2 | 2 | 4.5 | 0 | 0 | 3.08 | 2 |
| Ischgl | Europe | Austria | Tyrol | 4.8 | 4.56 | 3.27 | 4.83 | 4.05 | 3.86 | 4.34 | 4.11 | 4.23 | 66 |
| Kitzbühel | Europe | Austria | Tyrol | 4.8 | 4.46 | 2.7 | 4.57 | 4.84 | 4.28 | 4.3 | 4 | 4.24 | 83 |
| Kühtai | Europe | Austria | Tyrol | 4.8 | 4.4 | 3.3 | 3 | 3.3 | 4 | 3.75 | 4.12 | 3.83 | 10 |
| Mayrhofen | Europe | Austria | Tyrol | 4.74 | 4.38 | 3.18 | 4.2 | 4.05 | 4.43 | 4.45 | 3.89 | 4.17 | 65 |
| Nendaz | Europe | Switzerland | Valais | 4.5 | 3.67 | 2.67 | 3.5 | 3.83 | 4 | 4 | 3.8 | 3.75 | 6 |
| Obergurgl | Europe | Austria | Tyrol | 4.82 | 4.23 | 3.27 | 3.32 | 3.5 | 4.32 | 3.27 | 4.33 | 3.88 | 22 |
| Hochgurgl | Europe | Austria | Tyrol | 4.6 | 4.4 | 3.4 | 2.4 | 2.2 | 4.33 | 3.5 | 4 | 3.6 | 5 |
| Scheffau | Europe | Austria | Tyrol | 4 | 4.5 | 3 | 3 | 3 | 4 | 0 | 0 | 3.58 | 2 |
| Serfaus | Europe | Austria | Tyrol | 4.92 | 4.32 | 3.18 | 3.82 | 4.45 | 4.76 | 4.38 | 4.84 | 4.33 | 65 |
| Fiss | Europe | Austria | Tyrol | 4.67 | 4 | 3.33 | 3.08 | 3.58 | 4.7 | 3.75 | 4.11 | 3.9 | 12 |
| Ladis | Europe | Austria | Tyrol | 4.67 | 3.93 | 3.27 | 2.8 | 3.53 | 4.58 | 3 | 4 | 3.72 | 15 |
| Soelden | Europe | Austria | Tyrol | 4.71 | 4.74 | 2.62 | 4.8 | 4.27 | 3.72 | 4.44 | 4.26 | 4.19 | 98 |
| St. Anton | Europe | Austria | Tyrol | 4.92 | 4.58 | 2.28 | 4.44 | 4.56 | 4.18 | 4 | 4.6 | 4.2 | 50 |
| Brixen im Thale | Europe | Austria | Tyrol | 4 | 3.67 | 3 | 2.67 | 3.33 | 4 | 0 | 3 | 3.38 | 3 |
| Stubai Glacier | Europe | Austria | Tyrol | 4.6 | 4.5 | 3.05 | 2.8 | 2.4 | 3.5 | 4.38 | 3.94 | 3.65 | 20 |
| Waidring | Europe | Austria | Tyrol | 4 | 4.5 | 4 | 4 | 4 | 5 | 4 | 3 | 4.06 | 2 |
| Westendorf | Europe | Austria | Tyrol | 4.33 | 4.33 | 3 | 2.67 | 3.33 | 4.33 | 0 | 0 | 3.67 | 3 |
| Niederau | Europe | Austria | Tyrol | 4.25 | 3.75 | 3 | 3 | 3.5 | 4 | 0 | 0 | 3.58 | 4 |
| Zell am Ziller | Europe | Austria | Tyrol | 4.27 | 4.18 | 3.45 | 3.55 | 3.36 | 4.29 | 4 | 3.2 | 3.79 | 11 |
| Arosa | Europe | Switzerland | Graubunden | 4.65 | 4.82 | 2.53 | 3.65 | 3.94 | 4.5 | 4.4 | 4.09 | 4.07 | 17 |
| Rauris | Europe | Austria | Salzburg | 4 | 3 | 3 | 2 | 3 | 3 | 0 | 4 | 3.14 | 1 |
| Bad Hofgastein | Europe | Austria | Salzburg | 4.47 | 4 | 3.2 | 3 | 3.93 | 3.58 | 3 | 2.62 | 3.48 | 15 |
| Bad Gastein | Europe | Austria | Salzburg | 4.57 | 4 | 2.94 | 3.66 | 4.83 | 4.19 | 3.38 | 3.31 | 3.86 | 35 |
| Dorfgastein | Europe | Austria | Salzburg | 4.67 | 3.56 | 3.33 | 2.67 | 2.89 | 3.33 | 0 | 2.5 | 3.28 | 9 |
| Obertauern | Europe | Austria | Salzburg | 4.83 | 4.24 | 3.38 | 3.59 | 3.9 | 4.56 | 3.47 | 4.08 | 4 | 29 |
| Grossarl | Europe | Austria | Salzburg | 4.75 | 3.5 | 3.12 | 2.5 | 3.38 | 4.2 | 2 | 2.67 | 3.26 | 8 |
| Kaprun | Europe | Austria | Salzburg | 4.67 | 4.67 | 2.97 | 3.37 | 3.2 | 3.75 | 4.69 | 3.79 | 3.89 | 30 |
| Zell am See | Europe | Austria | Tyrol | 4.42 | 4.03 | 3.39 | 3.94 | 4.82 | 4.18 | 2.33 | 2.61 | 3.72 | 33 |
| Wagrain | Europe | Austria | Salzburg | 4.64 | 4.45 | 3.68 | 3.05 | 3.64 | 4.52 | 0 | 2.5 | 3.78 | 22 |
| Flachau | Europe | Austria | Salzburg | 4.72 | 4.11 | 3.78 | 3 | 3.28 | 4.62 | 4.25 | 2.33 | 3.76 | 18 |
| Maria Alm | Europe | Austria | Salzburg | 5 | 4.5 | 4.5 | 2.5 | 3.5 | 4 | 4 | 4 | 4 | 2 |
| Schladming | Europe | Austria | Styria | 4.77 | 4.12 | 3.38 | 3.62 | 3.96 | 4.12 | 3.62 | 3 | 3.82 | 26 |
| Murau | Europe | Austria | Styria | 4 | 4 | 4 | 3 | 4 | 4 | 4 | 0 | 3.86 | 1 |
| Galtuer | Europe | Austria | Tyrol | 4.71 | 3.79 | 3.43 | 3.07 | 3.36 | 4.2 | 4 | 4 | 3.82 | 14 |
| Bad Kleinkirchheim | Europe | Austria | Carinthia | 4.17 | 3 | 3 | 3.17 | 3.83 | 4.33 | 3 | 2.33 | 3.35 | 6 |
| Katschberg | Europe | Austria | Carinthia | 4.5 | 4.5 | 4 | 3 | 3.5 | 5 | 0 | 3 | 3.93 | 2 |
| Nassfeld | Europe | Austria | Carinthia | 4.77 | 4.23 | 3.91 | 3.41 | 3.82 | 4.33 | 3.62 | 3.81 | 3.99 | 22 |
| Lech | Europe | Austria | Vorarlberg | 4.85 | 4.4 | 2.15 | 3.75 | 4.05 | 4.22 | 3.5 | 4.75 | 3.96 | 20 |
| Zürs | Europe | Austria | Vorarlberg | 4.67 | 4.33 | 2.17 | 2.67 | 3.17 | 4 | 0 | 4.4 | 3.63 | 6 |
| Warth | Europe | Austria | Vorarlberg | 4.71 | 4.29 | 2.57 | 2.57 | 2.71 | 3.75 | 0 | 4.29 | 3.56 | 7 |
| Saalbach | Europe | Austria | Salzburg | 4.72 | 4.38 | 3.31 | 3.86 | 4.17 | 4 | 2.9 | 3.9 | 3.91 | 29 |
| Hinterglemm | Europe | Austria | Salzburg | 4.79 | 4.43 | 3.29 | 3.96 | 4.07 | 4.05 | 3.45 | 4.09 | 4.02 | 28 |
| Leogang | Europe | Austria | Salzburg | 4.4 | 3.8 | 3 | 3 | 3 | 4.5 | 0 | 3 | 3.53 | 5 |
| Lofer | Europe | Austria | Salzburg | 4.5 | 3.5 | 3.5 | 2.5 | 2.5 | 4 | 0 | 0 | 3.42 | 2 |
| Fieberbrunn | Europe | Austria | Tyrol | 4.4 | 3.7 | 3.3 | 2.7 | 3 | 4.4 | 4 | 4.22 | 3.72 | 10 |
| Pitztal Glacier | Europe | Austria | Tyrol | 4.67 | 4 | 3.33 | 2.67 | 3.33 | 0 | 0 | 3 | 3.5 | 3 |
| Mellau | Europe | Austria | Vorarlberg | 5 | 4 | 3 | 2 | 4 | 4 | 0 | 0 | 3.67 | 1 |
| Damüls | Europe | Austria | Vorarlberg | 4.75 | 3.75 | 3.5 | 2.5 | 3.25 | 3.67 | 3.5 | 3 | 3.49 | 4 |
| Gerlos | Europe | Austria | Tyrol | 4.55 | 4.36 | 3.55 | 3.09 | 3.64 | 4 | 4.17 | 3.5 | 3.86 | 11 |
| Kaltenbach | Europe | Austria | Tyrol | 4.5 | 4 | 4 | 2.5 | 3.5 | 4 | 0 | 0 | 3.75 | 2 |
| Fügen | Europe | Austria | Tyrol | 4.67 | 3.67 | 3.33 | 3 | 3 | 4 | 0 | 4 | 3.67 | 3 |
| Courchevel | Europe | France | Northern Alps | 4.53 | 4.53 | 2.11 | 3.95 | 4.58 | 3.8 | 4 | 4.07 | 3.94 | 19 |
| Les Menuires | Europe | France | Northern Alps | 4.26 | 4.13 | 3.26 | 3.3 | 3.35 | 4.18 | 3.91 | 4 | 3.8 | 23 |
| Meribel | Europe | France | Northern Alps | 4.29 | 4.29 | 2.12 | 3.96 | 4.29 | 3.67 | 4.56 | 4.3 | 3.94 | 24 |
| Val Thorens | Europe | France | Northern Alps | 4.41 | 4.57 | 2.94 | 4.18 | 3.73 | 4.15 | 4.39 | 4.57 | 4.12 | 82 |
| Albiez-Montrond | Europe | France | Northern Alps | | | | | | | | | | 0 |
| Alpe d'Huez | Europe | France | Northern Alps | 4.19 | 4.23 | 3.04 | 4.3 | 3.77 | 4.25 | 4.45 | 4.1 | 4.04 | 47 |
| Vaujany | Europe | France | Northern Alps | 3.8 | 4 | 3.2 | 3 | 3 | 0 | 3 | 4 | 3.43 | 5 |
| Le Grand Bornand | Europe | France | Northern Alps | 4 | 3 | 3.14 | 3.14 | 4.29 | 4 | 3.67 | 4.2 | 3.68 | 7 |
| La Clusaz | Europe | France | Northern Alps | 4.27 | 3.73 | 3.67 | 3.73 | 4.27 | 4.4 | 3.67 | 4.08 | 3.98 | 15 |
| Aussois | Europe | France | Northern Alps | 4 | 2 | 2 | 2 | 2 | 0 | 0 | 0 | 2.4 | 1 |
| Chamrousse | Europe | France | Northern Alps | 4 | 3 | 3.75 | 2.5 | 3.25 | 3 | 3.5 | 3 | 3.25 | 4 |
| Les Saisies | Europe | France | Northern Alps | 4.2 | 3.3 | 3.8 | 3.3 | 4.1 | 4.56 | 3.25 | 3.6 | 3.76 | 10 |
| Les 2 Alpes | Europe | France | Northern Alps | 4.26 | 4.26 | 3.35 | 4.23 | 3.77 | 4.2 | 4.5 | 4.21 | 4.1 | 31 |
| Praz sur Arly | Europe | France | Northern Alps | | | | | | | | | | 0 |
| Tignes | Europe | France | Northern Alps | 4.27 | 4.51 | 3.02 | 4.16 | 3.82 | 4.05 | 4.42 | 4.3 | 4.07 | 51 |
| Val d'Isere | Europe | France | Northern Alps | 4.43 | 4.17 | 2.81 | 4.29 | 4.33 | 3.78 | 4.12 | 4.39 | 4.04 | 42 |
| Megeve | Europe | France | Northern Alps | 4.06 | 4.18 | 2.18 | 3.65 | 4.29 | 4 | 3 | 3.75 | 3.64 | 17 |
| Saint-Gervais | Europe | France | Northern Alps | 4.11 | 4 | 2.78 | 3.11 | 4 | 3.83 | 3 | 3.33 | 3.52 | 9 |
| Les Contamines | Europe | France | Northern Alps | 4.43 | 3.71 | 3.57 | 2.57 | 3.43 | 4 | 3.5 | 4.43 | 3.71 | 7 |
| Valmorel | Europe | France | Northern Alps | 4 | 3.5 | 3.75 | 2.5 | 2.75 | 4.5 | 0 | 3.67 | 3.52 | 4 |
| Saint Francois Longchamp | Europe | France | Northern Alps | 4 | 3 | 3 | 2 | 3 | 4 | 0 | 0 | 3.17 | 1 |
| Flaine | Europe | France | Northern Alps | 3.83 | 3.83 | 3.83 | 3.67 | 3.67 | 4 | 2.5 | 3.6 | 3.62 | 6 |
| Les Carroz | Europe | France | Northern Alps | 3.83 | 3.42 | 3.33 | 3.33 | 4.08 | 4 | 2.5 | 3.71 | 3.53 | 12 |
| Samoëns | Europe | France | Northern Alps | 4 | 3.75 | 3 | 2.75 | 3 | 3.67 | 0 | 4 | 3.45 | 4 |
| La Norma | Europe | France | Northern Alps | 3.5 | 3 | 3 | 2.5 | 2.5 | 4 | 0 | 0 | 3.08 | 2 |
| Chamonix Mont-Blanc | Europe | France | Northern Alps | 4.08 | 4.62 | 1.81 | 4 | 4.69 | 3 | 3.2 | 4.35 | 3.72 | 26 |
| La Plagne | Europe | France | Northern Alps | 4.05 | 4.21 | 3.79 | 3.16 | 2.95 | 4.5 | 4.2 | 4.42 | 3.91 | 19 |
| Les Arcs | Europe | France | Northern Alps | 4.33 | 4.33 | 3.15 | 3.59 | 4 | 4 | 4.29 | 4.24 | 3.99 | 27 |
| Peisey-Vallandry | Europe | France | Northern Alps | 4.17 | 3.5 | 3 | 2.83 | 3 | 4 | 0 | 3.33 | 3.4 | 6 |
| Thollon les Memises | Europe | France | Northern Alps | | | | | | | | | | 0 |
| Morzine | Europe | France | Northern Alps | 4.38 | 4.12 | 2.88 | 3.88 | 4.25 | 4 | 3 | 3.25 | 3.72 | 8 |
| Les Gets | Europe | France | Northern Alps | 4 | 3.88 | 3.29 | 3.59 | 4.06 | 4.3 | 3.86 | 3.5 | 3.81 | 17 |
| Avoriaz | Europe | France | Northern Alps | 4.26 | 4 | 2.96 | 3.83 | 4.43 | 4 | 4.47 | 3.5 | 3.93 | 23 |
| Pralognan | Europe | France | Northern Alps | | | | | | | | | | 0 |
| Sainte Foy | Europe | France | Northern Alps | 4.5 | 3 | 3 | 2 | 2.75 | 0 | 0 | 4.5 | 3.29 | 4 |
| La Rosière | Europe | France | Northern Alps | 4 | 3.55 | 3.75 | 3.05 | 3.25 | 4.08 | 4.09 | 3.93 | 3.71 | 20 |
| Le Corbier | Europe | France | Northern Alps | 4 | 3.17 | 3.33 | 2.92 | 2.58 | 3.78 | 3.89 | 4 | 3.46 | 12 |
| Saint Sorlin d'Arves | Europe | France | Northern Alps | 4 | 3.33 | 3.17 | 3 | 3 | 3.67 | 3 | 3.8 | 3.37 | 6 |
| Termignon | Europe | France | Northern Alps | | | | | | | | | | 0 |
| Lanslevillard | Europe | France | Northern Alps | 3 | 3 | 3 | 3 | 2 | 3 | 3 | 3 | 2.88 | 1 |
| Valfréjus | Europe | France | Northern Alps | 4.25 | 3.25 | 3.5 | 2.75 | 3 | 4 | 4 | 4 | 3.59 | 4 |
| Valloire | Europe | France | Northern Alps | 4 | 3.5 | 3.5 | 2.75 | 3.25 | 3.5 | 2 | 4 | 3.31 | 4 |
| Valmeinier | Europe | France | Northern Alps | 3.5 | 3 | 3.5 | 2.5 | 4 | 4 | 0 | 3.5 | 3.43 | 2 |
| Isola 2000 | Europe | France | Southern Alps | 4.2 | 3 | 3.6 | 3 | 3 | 4.25 | 3 | 4 | 3.51 | 5 |
| SuperDevoluy | Europe | France | Southern Alps | 4 | 3.33 | 3 | 3 | 3.33 | 4 | 0 | 2.5 | 3.31 | 3 |
| Briancon | Europe | France | Southern Alps | 4 | 3.5 | 3 | 3 | 3.5 | 4 | 4 | 3.5 | 3.56 | 4 |
| Villeneuve | Europe | France | Southern Alps | 4 | 3.2 | 3.2 | 3 | 3.2 | 4 | 3.5 | 3.6 | 3.46 | 5 |
| Chantemerle | Europe | France | Southern Alps | 3.67 | 4 | 2.67 | 3 | 3 | 3 | 0 | 3.5 | 3.26 | 3 |
| Montgenevre | Europe | France | Southern Alps | 4.33 | 3.67 | 3.33 | 3.33 | 3.44 | 4 | 0 | 3.8 | 3.7 | 9 |
| Les Angles | Europe | France | Pyrenees | 3 | 2 | 3 | 2 | 3 | 0 | 0 | 0 | 2.6 | 1 |
| Saint-Lary | Europe | France | Pyrenees | | | | | | | | | | 0 |
| Font-Romeu | Europe | France | Pyrenees | | | | | | | | | | 0 |
| Peyragudes | Europe | France | Pyrenees | 4.17 | 3.5 | 3.67 | 2.67 | 2.17 | 4.5 | 3 | 4.5 | 3.52 | 6 |
| Vars | Europe | France | Southern Alps | 4.04 | 3.73 | 3.54 | 3.58 | 3.46 | 3.93 | 4.52 | 4.04 | 3.86 | 26 |
| Risoul | Europe | France | Southern Alps | 4.08 | 3.83 | 3.42 | 3 | 3 | 4.22 | 4 | 3.78 | 3.67 | 12 |
| Pra-Loup | Europe | France | Southern Alps | 4 | 3 | 3.57 | 2.57 | 2.43 | 3.5 | 3.5 | 4 | 3.32 | 7 |
| Le Seignus-Val d'Allos | Europe | France | Southern Alps | | | | | | | | | | 0 |
| Puy Saint Vincent | Europe | France | Southern Alps | 4 | 2.5 | 3.5 | 3 | 2.5 | 4 | 0 | 4 | 3.36 | 2 |
| Orcières | Europe | France | Southern Alps | | | | | | | | | | 0 |
| La Mongie | Europe | France | Southern Alps | 4 | 4 | 3 | 3 | 3 | 4 | 3 | 4 | 3.5 | 1 |
| La Toussuire | Europe | France | Northern Alps | 4 | 3.33 | 3.67 | 2.67 | 2.33 | 0 | 0 | 4 | 3.33 | 3 |
| Ax-les-Thermes | Europe | France | Pyrenees | | | | | | | | | | 0 |
| Cauterets | Europe | France | Pyrenees | 4.29 | 3.43 | 3.86 | 2.71 | 2.71 | 4.33 | 3.67 | 3.8 | 3.6 | 7 |
| Piau Engaly | Europe | France | Pyrenees | 4.2 | 3.2 | 4 | 2.8 | 2.4 | 4.25 | 0 | 3.75 | 3.51 | 5 |
| Soldeu El Tarter | Europe | Andorra | Andorra Pyrenees | 4.6 | 4.05 | 3.75 | 3.4 | 3.55 | 4.64 | 4.36 | 3.47 | 3.98 | 20 |
| Nevis Range | Europe | Scotland | Highlands | 3.67 | 3 | 4.33 | 2.67 | 3 | 4.67 | 3 | 3.33 | 3.46 | 3 |
| Canillo | Europe | Andorra | Andorra Pyrenees | 4.2 | 3.4 | 3.6 | 2.8 | 2.6 | 3.75 | 2 | 3 | 3.17 | 5 |
| Pas de la Casa | Europe | Andorra | Andorra Pyrenees | 4.22 | 3.78 | 3.67 | 3.22 | 3 | 4.44 | 0 | 3.4 | 3.68 | 9 |
| Colfosco | Europe | Italy | South Tyrol | 4 | 4.25 | 3 | 3 | 3.5 | 4 | 0 | 3.5 | 3.61 | 4 |
| Alpe di Siusi | Europe | Italy | South Tyrol | 4.08 | 3.64 | 3.16 | 2.36 | 2.84 | 4.73 | 4.41 | 2.12 | 3.42 | 25 |
| Carezza | Europe | Italy | South Tyrol | 4.33 | 3.33 | 3.33 | 2 | 2.67 | 4.5 | 2 | 2.5 | 3.08 | 3 |
| Arinsal | Europe | Andorra | Andorra Pyrenees | 4 | 3.75 | 4 | 2.88 | 3 | 4.17 | 3.5 | 3.5 | 3.6 | 8 |
| Pal | Europe | Andorra | Andorra Pyrenees | 4 | 4 | 3.33 | 2.67 | 2.67 | 4 | 0 | 3 | 3.38 | 3 |
| La Massana | Europe | Andorra | Andorra Pyrenees | 4.25 | 4.25 | 3.5 | 3.5 | 3.75 | 4 | 0 | 2.5 | 3.68 | 4 |
| Ordino | Europe | Andorra | Andorra Pyrenees | 4 | 3.67 | 4 | 3.33 | 3 | 4.33 | 4 | 3.5 | 3.73 | 3 |
| Encamp | Europe | Andorra | Andorra Pyrenees | 4 | 4 | 3 | 3 | 3 | 5 | 0 | 0 | 3.67 | 2 |
| Garmisch Partenkirchen | Europe | Germany | Bavaria | 4.28 | 4.11 | 2.83 | 3.28 | 4.56 | 4.25 | 3.4 | 3.11 | 3.73 | 18 |
| Lenggries-Brauneck | Europe | Germany | Bavaria | 4.67 | 3.33 | 3.67 | 3 | 3 | 4 | 0 | 0 | 3.61 | 3 |
| Bayrischzell - Sudelfeld | Europe | Germany | Bavaria | | | | | | | | | | 0 |
| Reit im Winkl | Europe | Germany | Bavaria | 4.33 | 3.17 | 3.17 | 2.67 | 3 | 4 | 3 | 2 | 3.17 | 6 |
| Oberjoch | Europe | Germany | Bavaria | 4 | 3 | 3.33 | 1.67 | 2.33 | 3.5 | 0 | 2.33 | 2.88 | 3 |
| Winterberg | Europe | Germany | Bavaria | 3.75 | 3 | 3 | 2 | 2.75 | 4.33 | 0 | 1 | 2.83 | 4 |
| Schoppernau | Europe | Austria | Vorarlberg | | | | | | | | | | 0 |
| Riezlern | Europe | Austria | Vorarlberg | 4.33 | 4.33 | 3.33 | 3 | 3 | 4 | 1 | 2 | 3.12 | 3 |
| Oberstdorf | Europe | Germany | Bavaria | 4.38 | 3.88 | 3.12 | 2.75 | 3.62 | 4 | 3 | 3.4 | 3.52 | 8 |
| Thalkirchdorf | Europe | Germany | Bavaria | | | | | | | | | | 0 |
| Todtnauberg | Europe | Germany | Bavaria | 4 | 2 | 4 | 1 | 2 | 0 | 0 | 3 | 2.67 | 1 |
| San Candido | Europe | Italy | South Tyrol | 4 | 3.5 | 3.25 | 2.75 | 4 | 4.33 | 0 | 2 | 3.4 | 4 |
| Abetone | Europe | Italy | Toscana | 4 | 3 | 4 | 2 | 3 | 3 | 0 | 0 | 3.17 | 1 |
| Alleghe | Europe | Italy | Veneto | 4.18 | 3.82 | 2.91 | 3.09 | 4.45 | 4 | 3.33 | 3 | 3.6 | 11 |
| Moena | Europe | Italy | Trento | 3.83 | 3.5 | 3.17 | 2.83 | 3.67 | 3.8 | 2.33 | 2.5 | 3.2 | 6 |
| Rio di Pusteria | Europe | Italy | South Tyrol | 4.33 | 4.33 | 3.5 | 2.33 | 3.33 | 4 | 0 | 3 | 3.55 | 6 |
| Chiesa | Europe | Italy | South Tyrol | 3 | 3 | 3 | 2 | 3 | 0 | 0 | 0 | 2.8 | 1 |
| Corvara | Europe | Italy | South Tyrol | 4.11 | 4 | 3 | 3.44 | 3.89 | 3.71 | 2.67 | 2.6 | 3.43 | 9 |
| La Villa | Europe | Italy | South Tyrol | 4.56 | 4 | 3 | 3.22 | 3.89 | 3.4 | 0 | 3 | 3.58 | 9 |
| Sesto | Europe | Italy | South Tyrol | 4 | 4.25 | 3.5 | 2.25 | 2.5 | 4 | 0 | 0 | 3.42 | 4 |
| Rivisondoli - Alto Sangro | Europe | Italy | Abruzzo | | | | | | | | | | 0 |
| Aprica | Europe | Italy | Lombardy | | | | | | | | | | 0 |
| Arabba | Europe | Italy | Veneto | 4.66 | 4.5 | 3.25 | 3.25 | 4 | 4.25 | 3.67 | 3.62 | 3.9 | 32 |
| Bardonecchia | Europe | Italy | Piedmont | 4 | 3 | 3.75 | 2.75 | 3 | 4 | 4 | 4 | 3.56 | 4 |
| Bormio | Europe | Italy | Lombardy | 4.33 | 3.62 | 3.62 | 3.29 | 4.24 | 4 | 3.43 | 3.64 | 3.77 | 21 |
| Canazei | Europe | Italy | Trento | 4.73 | 4.63 | 3.07 | 3.63 | 4.3 | 4.1 | 3.67 | 3.78 | 3.99 | 30 |
| Kurzras | Europe | Italy | South Tyrol | 4.4 | 3.8 | 3.6 | 2.2 | 2 | 0 | 0 | 3.5 | 3.25 | 5 |
| Cavalese | Europe | Italy | Trento | 4 | 3.3 | 3.5 | 2.9 | 4.1 | 4.14 | 1.25 | 2 | 3.15 | 10 |
| Predazzo | Europe | Italy | Trento | 4.74 | 3.84 | 3.63 | 3.11 | 4.05 | 3.36 | 3.68 | 3 | 3.68 | 19 |
| Breuil-Cervinia | Europe | Italy | Aosta Valley | 4.79 | 4.15 | 2.62 | 3.62 | 3.5 | 3.91 | 4.36 | 4.05 | 3.87 | 34 |
| Valtournenche | Europe | Italy | Aosta Valley | 4 | 4 | 2.67 | 2 | 2.67 | 0 | 0 | 0 | 3.07 | 3 |
| Montecreto | Europe | Italy | Emilia Romagna | 4 | 3.67 | 3.33 | 2.67 | 3 | 4 | 0 | 3 | 3.38 | 3 |
| Zoldo | Europe | Italy | Veneto | 4 | 3.33 | 3 | 3.33 | 3.33 | 4 | 0 | 0 | 3.5 | 3 |
| Cortina d'Ampezzo | Europe | Italy | Veneto | 4.82 | 4.48 | 2.53 | 4.15 | 4.86 | 4.12 | 4 | 3.66 | 4.08 | 66 |
| Courmayeur | Europe | Italy | Aosta Valley | 4 | 3.44 | 3.12 | 2.94 | 3.12 | 3.5 | 4 | 4.25 | 3.55 | 16 |
| Folgaria | Europe | Italy | Trento | 4.5 | 3 | 3.5 | 2.5 | 3 | 4 | 0 | 2 | 3.21 | 2 |
| Kronplatz | Europe | Italy | South Tyrol | 4.87 | 4.37 | 3.45 | 3.63 | 4.02 | 4.69 | 4.29 | 2.61 | 3.99 | 113 |
| Evolène | Europe | Switzerland | Valais | 4 | 3 | 3.33 | 2 | 2.33 | 0 | 0 | 4.67 | 3.22 | 3 |
| La Thuile | Europe | Italy | Aosta Valley | 4.07 | 3.47 | 2.87 | 2.87 | 3.07 | 3.5 | 3.14 | 3.56 | 3.32 | 15 |
| Limone Piemonte | Europe | Italy | Piedmont | 4.5 | 3.62 | 3.5 | 3.38 | 3.62 | 4.43 | 3 | 3.75 | 3.73 | 8 |
| Livigno | Europe | Italy | Lombardy | 4.57 | 4.18 | 4.3 | 4.55 | 4.2 | 4.29 | 4.53 | 4.36 | 4.37 | 115 |
| Madonna di Campiglio | Europe | Italy | Trento | 4.75 | 4.54 | 2.62 | 4.29 | 4.62 | 4.26 | 4.51 | 3.74 | 4.17 | 63 |
| Pinzolo | Europe | Italy | Trento | 4.25 | 3.81 | 3 | 3.31 | 4.19 | 3.92 | 0 | 2.67 | 3.59 | 16 |
| Madesimo | Europe | Italy | Lombardy | | | | | | | | | | 0 |
| Campodolcino | Europe | Italy | Lombardy | | | | | | | | | | 0 |
| Artesina | Europe | Italy | Piedmont | | | | | | | | | | 0 |
| Frabosa Soprana | Europe | Italy | Piedmont | 3.5 | 3 | 3 | 3 | 3.5 | 4 | 0 | 2.5 | 3.21 | 2 |
| Champoluc | Europe | Italy | Aosta Valley | 4.2 | 3.8 | 3 | 2.2 | 2.6 | 3 | 0 | 4 | 3.26 | 5 |
| Gressoney la Trinité | Europe | Italy | Aosta Valley | 4 | 3.6 | 3.2 | 2 | 2.6 | 0 | 0 | 4.4 | 3.3 | 5 |
| Fai della Paganella | Europe | Italy | Trento | | | | | | | | | | 0 |
| Andalo | Europe | Italy | Trento | | | | | | | | | | 0 |
| Pila | Europe | Italy | Aosta Valley | 4.43 | 3.71 | 3.43 | 2.71 | 3 | 4.17 | 4 | 3.67 | 3.64 | 7 |
| Brixen-Plose | Europe | Italy | South Tyrol | 4.43 | 3.43 | 3.71 | 3.29 | 3.57 | 4 | 3.33 | 3.75 | 3.69 | 7 |
| Passo del Tonale | Europe | Italy | Trento | 4.63 | 4.26 | 3.48 | 3.11 | 2.89 | 4.1 | 4.26 | 4.37 | 3.89 | 27 |
| Ponte di Legno | Europe | Italy | Lombardy | 4.62 | 4.38 | 3.5 | 3 | 3 | 4 | 3.8 | 3.86 | 3.77 | 8 |
| San Martino di Castrozza | Europe | Italy | Trento | 4.25 | 4.5 | 3.5 | 3 | 4.75 | 4 | 0 | 0 | 4 | 4 |
| Sestriere | Europe | Italy | Tyrol | 4 | 3.44 | 3.11 | 3 | 3 | 4 | 3.4 | 4 | 3.49 | 9 |
| Cesana | Europe | Italy | Piedmont | 4 | 3 | 3 | 2.5 | 2.5 | 5 | 0 | 0 | 3.33 | 2 |
| Claviere | Europe | Italy | Piedmont | 4.33 | 3.33 | 3 | 2.67 | 2.67 | 4 | 0 | 3 | 3.29 | 3 |
| Les Karellis | Europe | France | Northern Alps | 3.5 | 3 | 4 | 2 | 3 | 4 | 0 | 3 | 3.21 | 2 |
| Sauze d'Oulx | Europe | Italy | Piedmont | 4 | 3.25 | 3.25 | 2.75 | 2.5 | 3.5 | 0 | 3.33 | 3.23 | 4 |
| Solda | Europe | Italy | South Tyrol | 4 | 4 | 3 | 2 | 2 | 3 | 0 | 0 | 3 | 1 |
| Selva Val Gardena | Europe | Italy | South Tyrol | 4.64 | 4.46 | 3.98 | 4.22 | 4.47 | 4.54 | 4.29 | 4.05 | 4.33 | 258 |
| S. Cristina | Europe | Italy | South Tyrol | 4.24 | 4.06 | 3.61 | 3.57 | 4.04 | 4.12 | 3.88 | 3.65 | 3.9 | 158 |
| Campo Felice | Europe | Italy | Abruzzo | 4 | 2.67 | 4 | 2.33 | 2.67 | 4.5 | 0 | 3 | 3.31 | 3 |
| Barzio | Europe | Italy | Lombardy | | | | | | | | | | 0 |
| San Cassiano | Europe | Italy | South Tyrol | 4 | 3.57 | 3 | 2.71 | 3.14 | 4 | 3 | 3 | 3.3 | 7 |
| San Domenico | Europe | Italy | Piedmont | 4.33 | 3.44 | 4.11 | 2.67 | 2.56 | 4.17 | 4 | 3.67 | 3.62 | 9 |
| Foppolo | Europe | Italy | Lombardy | | | | | | | | | | 0 |
| Carona | Europe | Italy | Lombardy | 3 | 3 | 3 | 2 | 3 | 3 | 0 | 0 | 2.83 | 1 |
| Kirchberg | Europe | Austria | Tyrol | 4.45 | 4.18 | 3.09 | 3.64 | 3.82 | 4.22 | 3 | 3 | 3.68 | 11 |
| Tux | Europe | Austria | Tyrol | 4.62 | 3.88 | 3 | 3.25 | 3.12 | 3.8 | 3.5 | 3.8 | 3.62 | 8 |
| Lermoos | Europe | Austria | Tyrol | 4 | 4 | 3 | 2 | 3 | 3 | 0 | 0 | 3.17 | 1 |
| Nauders | Europe | Austria | Tyrol | 4.67 | 3.58 | 3.33 | 3.17 | 3.33 | 4.36 | 3.8 | 4.08 | 3.79 | 12 |
| Fulpmes | Europe | Austria | Tyrol | 4 | 3 | 3 | 2.5 | 3 | 0 | 0 | 0 | 3.1 | 2 |
| Kals | Europe | Austria | Tyrol | 4 | 4 | 4 | 2 | 3 | 0 | 0 | 3 | 3.33 | 1 |
| Matrei | Europe | Austria | Tyrol | | | | | | | | | | 0 |
| Seefeld | Europe | Austria | Tyrol | 4.2 | 3.8 | 2.2 | 3.4 | 4.2 | 4 | 0 | 2.67 | 3.5 | 5 |
| Kappl | Europe | Austria | Tyrol | 4.33 | 3.33 | 3 | 2 | 3 | 4 | 3 | 3.5 | 3.27 | 3 |
| Tauplitz | Europe | Austria | Styria | 4 | 3.5 | 4 | 3 | 2.5 | 4 | 2 | 3 | 3.25 | 2 |
| Schruns | Europe | Austria | Vorarlberg | 4.78 | 4.67 | 3 | 3.61 | 3.67 | 4 | 4.15 | 4.65 | 4.07 | 18 |
| Hirschegg | Europe | Austria | Vorarlberg | 4 | 4 | 3 | 2 | 2 | 4 | 0 | 0 | 3.17 | 1 |
| Valbella | Europe | Switzerland | Graubunden | 4.67 | 3.67 | 2.67 | 3 | 3.33 | 4 | 3 | 4 | 3.54 | 3 |
| Lenzerheide | Europe | Switzerland | Graubunden | 4.8 | 4.4 | 3 | 3.53 | 4 | 4.29 | 4.14 | 4.2 | 4.05 | 15 |
| Davos | Europe | Switzerland | Graubunden | 4.73 | 4.55 | 2 | 3.45 | 3.09 | 4 | 4 | 4 | 3.73 | 11 |
| Flims | Europe | Switzerland | Graubunden | 4.75 | 4.25 | 2.58 | 3.83 | 3.75 | 4 | 4.56 | 4 | 3.97 | 12 |
| Laax | Europe | Switzerland | Graubunden | 4.75 | 4.3 | 2.45 | 4.3 | 3.45 | 4.2 | 4.73 | 4.25 | 4.05 | 20 |
| Falera | Europe | Switzerland | Graubunden | 4.67 | 4 | 2.33 | 3 | 2.83 | 3.67 | 4.25 | 4.25 | 3.62 | 6 |
| Klosters | Europe | Switzerland | Graubunden | 4.44 | 4.44 | 2.89 | 3.33 | 3.44 | 4.25 | 0 | 4.33 | 3.88 | 9 |
| Obersaxen | Europe | Switzerland | Graubunden | | | | | | | | | | 0 |
| Samnaun | Europe | Switzerland | Graubunden | 4.67 | 3.92 | 3 | 3 | 3.08 | 4.33 | 3.8 | 3.71 | 3.69 | 12 |
| Scuol | Europe | Switzerland | Graubunden | 4.5 | 3.5 | 2.75 | 2.75 | 3.75 | 4 | 3.5 | 4 | 3.59 | 4 |
| Sedrun | Europe | Switzerland | Graubunden | 4.5 | 3.5 | 3.5 | 3 | 3.5 | 5 | 0 | 0 | 3.83 | 2 |
| Andermatt | Europe | Switzerland | Central Switzerland | 4.64 | 4.55 | 3.27 | 3 | 4 | 4 | 4 | 4.29 | 3.97 | 11 |
| St. Moritz | Europe | Switzerland | Graubunden | 4.77 | 4.54 | 2.23 | 3.46 | 3.77 | 4 | 3 | 4.14 | 3.74 | 13 |
| Celerina | Europe | Switzerland | Graubunden | 4.75 | 4.38 | 2.75 | 3 | 3.38 | 4 | 4.33 | 4.33 | 3.86 | 8 |
| Bettmeralp | Europe | Switzerland | Valais | 4.8 | 4.6 | 3 | 2.8 | 3.6 | 4 | 0 | 4 | 3.83 | 5 |
| Anzere | Europe | Switzerland | Valais | 4.4 | 3.6 | 3.6 | 3.6 | 4.2 | 4 | 0 | 3 | 3.77 | 5 |
| Blatten-Belalp | Europe | Switzerland | Valais | 4.75 | 3.25 | 3.25 | 2.5 | 3.75 | 0 | 0 | 4 | 3.58 | 4 |
| Champery | Europe | Switzerland | Valais | 4.33 | 3.17 | 3 | 2.67 | 3.33 | 0 | 0 | 4.25 | 3.46 | 6 |
| Meiringen | Europe | Switzerland | Bernese Oberland | 5 | 4 | 4 | 2 | 3 | 5 | 0 | 0 | 3.83 | 1 |
| Crans Montana | Europe | Switzerland | Valais | 4.67 | 4.13 | 3.07 | 3.67 | 3.93 | 4.2 | 4.25 | 3.89 | 3.98 | 15 |
| Grächen | Europe | Switzerland | Valais | 4 | 4 | 3 | 3 | 4 | 0 | 0 | 0 | 3.6 | 1 |
| Grimentz | Europe | Switzerland | Valais | 4.5 | 4 | 3.25 | 2.5 | 3.5 | 0 | 0 | 4.5 | 3.71 | 4 |
| Zinal | Europe | Switzerland | Valais | 4.5 | 4.5 | 3.5 | 2.5 | 3.5 | 2 | 0 | 5 | 3.64 | 2 |
| Lauchernalp | Europe | Switzerland | Valais | 4.5 | 4.5 | 3 | 2 | 3.5 | 4 | 0 | 4 | 3.64 | 2 |
| Morgins | Europe | Switzerland | Valais | | | | | | | | | | 0 |
| Ovronnaz | Europe | Switzerland | Valais | 4 | 1 | 3 | 2 | 3 | 0 | 0 | 4 | 2.83 | 1 |
| Saas Fee | Europe | Switzerland | Valais | 4.55 | 4.1 | 3 | 3.45 | 3.9 | 3.88 | 4.21 | 4.06 | 3.89 | 20 |
| Saint-Luc | Europe | Switzerland | Valais | | | | | | | | | | 0 |
| Chandolin | Europe | Switzerland | Valais | 4 | 2.5 | 3 | 2 | 2 | 4 | 0 | 4 | 3.07 | 2 |
| Thyon | Europe | Switzerland | Valais | 4 | 3.25 | 2.5 | 2.5 | 2.5 | 4 | 4 | 4 | 3.34 | 4 |
| Leukerbad | Europe | Switzerland | Valais | 4.17 | 3.83 | 3.67 | 2.67 | 3.17 | 3.5 | 3 | 3.5 | 3.44 | 6 |
| Champoussin | Europe | Switzerland | Valais | 3.67 | 4 | 2.67 | 2.33 | 3 | 4 | 2 | 3.33 | 3.12 | 3 |
| Verbier | Europe | Switzerland | Valais | 4.83 | 4.72 | 1.9 | 3.86 | 4.41 | 4 | 4 | 4.83 | 4.07 | 29 |
| Vercorin | Europe | Switzerland | Valais | | | | | | | | | | 0 |
| Veysonnaz | Europe | Switzerland | Valais | 4.5 | 3.5 | 3 | 2 | 2.5 | 4 | 0 | 4 | 3.36 | 2 |
| Zermatt | Europe | Switzerland | Valais | 4.69 | 4.75 | 1.91 | 3.94 | 4.78 | 3.25 | 3.8 | 3.84 | 3.87 | 32 |
| Wildhaus | Europe | Switzerland | Eastern Switzerland | 4 | 3 | 3 | 1 | 1 | 4 | 0 | 0 | 2.67 | 1 |
| Flumserberg | Europe | Switzerland | Eastern Switzerland | 4.67 | 3.83 | 3.67 | 2.5 | 3.17 | 4.5 | 0 | 0 | 3.72 | 6 |
| Bad Ragaz | Europe | Switzerland | Eastern Switzerland | 4.5 | 3.5 | 3.5 | 3 | 3.38 | 4.25 | 4 | 3.43 | 3.69 | 8 |
| Braunwald | Europe | Switzerland | Eastern Switzerland | | | | | | | | | | 0 |
| Elm | Europe | Switzerland | Eastern Switzerland | | | | | | | | | | 0 |
| Les Diablerets | Europe | Switzerland | Lake Geneva Region | 4.71 | 4.29 | 3.29 | 3 | 3.29 | 3 | 0 | 4.25 | 3.69 | 7 |
| Villars | Europe | Switzerland | Lake Geneva Region | 4.67 | 4 | 3 | 2.67 | 4 | 4 | 0 | 4 | 3.76 | 3 |
| Hoch-Ybrig | Europe | Switzerland | Central Switzerland | 4 | 3 | 3 | 3 | 3 | 0 | 0 | 0 | 3.2 | 1 |
| Engelberg | Europe | Switzerland | Central Switzerland | 4.5 | 4.71 | 2.86 | 3.14 | 4.07 | 4 | 1 | 4 | 3.54 | 14 |
| Melchsee-Frutt | Europe | Switzerland | Lucerne region | 4.33 | 4 | 3.33 | 3 | 3 | 4 | 0 | 0 | 3.61 | 3 |
| Lenk | Europe | Switzerland | Bernese Oberland | 4.33 | 4.17 | 3.33 | 3 | 3.67 | 4 | 0 | 4 | 3.79 | 6 |
| Adelboden | Europe | Switzerland | Bernese Oberland | 4.56 | 4.11 | 3.22 | 3.22 | 3.78 | 4.12 | 4 | 3.8 | 3.85 | 9 |
| Gstaad | Europe | Switzerland | Bernese Oberland | 4.6 | 4.27 | 2.8 | 3.53 | 4.73 | 4.12 | 3 | 3.5 | 3.82 | 15 |
| Chateau d'Oex | Europe | Switzerland | Bernese Oberland | 4 | 3.67 | 3 | 2.33 | 3 | 4 | 1 | 3 | 3 | 3 |
| Interlaken | Europe | Switzerland | Bernese Oberland | 4.33 | 3.67 | 2.67 | 4 | 4.33 | 3.67 | 4 | 3 | 3.71 | 3 |
| Grindelwald | Europe | Switzerland | Bernese Oberland | 4.8 | 4.2 | 2.87 | 3.47 | 4.6 | 4.22 | 4.42 | 3.93 | 4.06 | 15 |
| Wengen | Europe | Switzerland | Bernese Oberland | 4.43 | 4.14 | 2.86 | 3.14 | 4.29 | 4.5 | 3 | 3.5 | 3.73 | 7 |
| Mürren | Europe | Switzerland | Bernese Oberland | 4.33 | 4.33 | 2.67 | 3 | 4.17 | 4 | 3.5 | 4 | 3.75 | 6 |
| Beckenried | Europe | Switzerland | Central Switzerland | 4.5 | 3.5 | 3.5 | 2.5 | 4 | 4 | 0 | 4 | 3.71 | 2 |
| Sörenberg | Europe | Switzerland | Central Switzerland | | | | | | | | | | 0 |
| Leysin | Europe | Switzerland | Lake Geneva Region | 3 | 3 | 3 | 2 | 2 | 0 | 0 | 0 | 2.6 | 1 |
| Sierra Nevada | Europe | Spain | Andalusia | 4.4 | 4 | 3.2 | 3.5 | 3.5 | 4.25 | 4.14 | 4 | 3.87 | 10 |
| Astun | Europe | Spain | Aragon | 4.5 | 3 | 4 | 3 | 2.5 | 4 | 3 | 4.5 | 3.56 | 2 |
| Candanchu | Europe | Spain | Aragon | 4.25 | 3 | 3.5 | 2.75 | 3 | 4 | 0 | 4 | 3.5 | 4 |
| Cerler | Europe | Spain | Aragon | 4 | 3 | 3 | 3 | 2 | 4 | 0 | 4 | 3.29 | 1 |
| Formigal | Europe | Spain | Aragon | 4.38 | 2.88 | 2.88 | 3 | 2.38 | 4.5 | 4 | 4.2 | 3.52 | 6 |
| Panticosa | Europe | Spain | Aragon | 4 | 3.5 | 3.5 | 2.5 | 3 | 4 | 0 | 4 | 3.5 | 2 |
| Valgrande Pajares | Europe | Spain | Asturias | | | | | | | | | | 0 |
| La Pinilla | Europe | Spain | Castilla y Leon | | | | | | | | | | 0 |
| Baqueira-Beret | Europe | Spain | Catalonia | 4.33 | 3.67 | 3.5 | 3 | 3.67 | 4.2 | 4.5 | 3.5 | 3.8 | 6 |
| Boi-Taull | Europe | Spain | Catalonia | 4 | 3.5 | 4 | 2.5 | 3.5 | 4.5 | 3 | 5 | 3.75 | 2 |
| La Molina | Europe | Spain | Catalonia | 4 | 3 | 3.5 | 2.5 | 2.5 | 5 | 0 | 4 | 3.5 | 2 |
| Masella | Europe | Spain | Catalonia | 4.5 | 3.5 | 3.75 | 2.5 | 3 | 3.5 | 4 | 5 | 3.72 | 4 |
| Port del Comte | Europe | Spain | Catalonia | 3 | 4 | 5 | 2 | 4 | 5 | 2 | 3 | 3.5 | 1 |
| Valdezcaray | Europe | Spain | La Rioja | 3 | 3 | 3 | 2 | 2 | 4 | 0 | 4 | 3 | 1 |
| Port Aine | Europe | Spain | Catalonia | | | | | | | | | | 0 |
| Janské Lázně | Europe | Czech Republic | Hradec Králové | | | | | | | | | | 0 |
| Oberwiesenthal | Europe | Germany | Saxony | 4 | 3 | 3 | 2 | 3 | 0 | 0 | 0 | 3 | 1 |
| Rokytnice nad Jizerou | Europe | Czech Republic | Lyberec | | | | | | | | | | 0 |
| Spindleruv Mlyn | Europe | Czech Republic | Hradec Králové | 4 | 3.33 | 3.89 | 2.67 | 3.56 | 4.78 | 3.5 | 2 | 3.47 | 9 |
| Harrachov | Europe | Czech Republic | Lyberec | 3.5 | 3 | 4 | 2.5 | 2.5 | 4 | 0 | 1 | 2.93 | 2 |
| Ski Karlov | Europe | Czech Republic | Moravian-Silesian | | | | | | | | | | 0 |
| Jasna | Europe | Slovakia | Žilina | 3.56 | 4.11 | 3.7 | 3 | 2.85 | 4 | 2.81 | 3.36 | 3.42 | 27 |
| Vratna | Europe | Slovakia | Žilina | | | | | | | | | | 0 |
| Tatranská Lomnica | Europe | Slovakia | Prešov | 3.8 | 3.2 | 3.6 | 1.6 | 2.4 | 3.67 | 1.33 | 3 | 2.83 | 5 |
| Velká Rača | Europe | Slovakia | Žilina | | | | | | | | | | 0 |
| Krvavec | Europe | Slovenia | Gorenjska | 3.5 | 2 | 3 | 2 | 2.5 | 3.5 | 0 | 2 | 2.64 | 2 |
| Cerkno | Europe | Slovenia | Gorenjska | 4 | 3 | 4 | 2 | 2 | 5 | 0 | 3 | 3.29 | 1 |
| Bohinj-Vogel | Europe | Slovenia | Gorenjska | 3.67 | 3 | 3.33 | 2 | 3.33 | 4 | 4 | 2.5 | 3.23 | 3 |
| Kranjska Gora | Europe | Slovenia | Gorenjska | | | | | | | | | | 0 |
| Kanin | Europe | Slovenia | Goriška | 4.25 | 4 | 3.75 | 2.5 | 3.25 | 2 | 1 | 3.5 | 3.03 | 4 |
| Golte | Europe | Slovenia | Savinjska | 4 | 3 | 3 | 2 | 2 | 3 | 0 | 0 | 2.83 | 1 |
| Maribor Pohorje | Europe | Slovenia | Podravska | 3 | 2 | 3 | 2 | 3 | 3 | 2 | 1 | 2.38 | 1 |
| Åre | Europe | Sweden | Northern Sweden | 4.56 | 4.19 | 3.19 | 3.19 | 4 | 4.85 | 4.14 | 2.75 | 3.86 | 16 |
| Glenshee | Europe | Scotland | Highlands | 3 | 3 | 3 | 1 | 2 | 4 | 0 | 0 | 2.67 | 1 |
| Tandådalen-​Hundfjället | Europe | Sweden | Northern Sweden | 4 | 3.5 | 3 | 3 | 3.5 | 4.5 | 0 | 0 | 3.58 | 2 |
| Kläppen | Europe | Sweden | Northern Sweden | 3.8 | 3.2 | 3.2 | 3.2 | 3.2 | 4.25 | 4 | 2.5 | 3.42 | 5 |
| Lindvallen | Europe | Sweden | Northern Sweden | 4 | 2.5 | 4 | 3.5 | 2 | 4.5 | 4 | 3 | 3.44 | 2 |
| Stöten | Europe | Sweden | Northern Sweden | 3.75 | 3 | 3.5 | 2.75 | 3 | 4 | 0 | 2 | 3.14 | 4 |
| Hemavan | Europe | Sweden | Northern Sweden | | | | | | | | | | 0 |
| Tärnaby | Europe | Sweden | Northern Sweden | 3 | 3 | 3 | 2 | 3 | 0 | 0 | 3 | 2.83 | 1 |
| Trillevallen | Europe | Sweden | Northern Sweden | 4 | 2 | 3 | 2 | 3 | 0 | 0 | 2 | 2.67 | 1 |
| Bydalsfjällen | Europe | Sweden | Northern Sweden | | | | | | | | | | 0 |
| Romme Alpin | Europe | Sweden | Northern Sweden | 4 | 4 | 3 | 2 | 2 | 3 | 3 | 0 | 3 | 1 |
| Vemdalen | Europe | Sweden | Northern Sweden | 4.6 | 3 | 3.4 | 2.8 | 3.2 | 4.6 | 4 | 3.67 | 3.66 | 5 |
| Lofsdalen | Europe | Sweden | Northern Sweden | 4 | 3 | 3.5 | 2 | 3.5 | 4 | 0 | 3 | 3.29 | 2 |
| Ramundberget | Europe | Sweden | Northern Sweden | | | | | | | | | | 0 |
| Branäs | Europe | Sweden | Northern Sweden | 3.5 | 2.5 | 3 | 2.5 | 3 | 4 | 0 | 0 | 3.08 | 2 |
| Hemsedal | Europe | Norway | Buskerud | 4.5 | 3.83 | 3.17 | 3.5 | 4 | 4.25 | 4.25 | 4 | 3.94 | 6 |
| Trysil | Europe | Norway | Hedmark | 4.4 | 3.2 | 3.4 | 3.4 | 4 | 4.5 | 4 | 2.5 | 3.67 | 5 |
| Oppdal | Europe | Norway | Sør-Trøndelag | | | | | | | | | | 0 |
| Myrkdalen | Europe | Norway | Western Norway | 4.5 | 3 | 3.5 | 2 | 2.5 | 4 | 0 | 4 | 3.36 | 2 |
| Voss | Europe | Norway | Western Norway | 4 | 3 | 3 | 2.67 | 4.33 | 4 | 0 | 3 | 3.43 | 3 |
| Kvitfjell | Europe | Norway | Buskerud | | | | | | | | | | 0 |
| Hovden | Europe | Norway | Aust - Agder | | | | | | | | | | 0 |
| Levi | Europe | Finland | Lapland | 4 | 4 | 3 | 2 | 3 | 5 | 0 | 0 | 3.5 | 1 |
| Ruka | Europe | Finland | Northhern Finland | 4.33 | 3.33 | 3 | 3 | 4 | 4.67 | 4 | 3 | 3.67 | 3 |
| Ylläs | Europe | Finland | Northhern Finland | | | | | | | | | | 0 |
| Tahko | Europe | Finland | East Finland | 4 | 2 | 2 | 2 | 3 | 4 | 0 | 1 | 2.57 | 1 |
| Ukkohalla | Europe | Finland | Northhern Finland | | | | | | | | | | 0 |
| Paljakka | Europe | Finland | Northhern Finland | | | | | | | | | | 0 |
| Alpe du Grand Serre | Europe | France | Northern Alps | 4 | 3 | 3 | 2 | 3 | 5 | 0 | 0 | 3.33 | 1 |
| Lelex | Europe | France | Northern Alps | | | | | | | | | | 0 |
| Arêches-Beaufort | Europe | France | Northern Alps | | | | | | | | | | 0 |
| Chatel | Europe | France | Northern Alps | 4.33 | 3.83 | 3 | 3.33 | 3.83 | 4 | 4 | 4 | 3.79 | 6 |
| Les Houches | Europe | France | Northern Alps | 3.75 | 3.5 | 2.5 | 2.5 | 2.5 | 4 | 0 | 3.5 | 3.18 | 4 |
| Villard de Lans | Europe | France | Northern Alps | | | | | | | | | | 0 |
| Super Besse | Europe | France | Massif central | 3 | 3 | 3 | 3 | 3 | 4 | 0 | 0 | 3.17 | 1 |
| Le Lioran | Europe | France | Massif central | | | | | | | | | | 0 |
| Le Motn-Dore | Europe | France | Massif central | | | | | | | | | | 0 |
| Gerardmer | Europe | France | Vosges | | | | | | | | | | 0 |
| La Bresse Hohneck | Europe | France | Vosges | | | | | | | | | | 0 |
| Guzet | Europe | France | Pyrenees | | | | | | | | | | 0 |
| Valberg | Europe | France | Southern Alps | | | | | | | | | | 0 |
| Königsleiten | Europe | Austria | Salzburg | 4.5 | 4 | 3.17 | 3.17 | 3.5 | 4 | 3.67 | 3.33 | 3.67 | 6 |
| Radstadt | Europe | Austria | Salzburg | 4 | 4 | 3 | 2 | 3 | 5 | 0 | 0 | 3.5 | 1 |
| Söll | Europe | Austria | Tyrol | 4.48 | 4.38 | 2.95 | 3.76 | 3.9 | 4.06 | 4.09 | 3.36 | 3.87 | 21 |
| Hopfgarten | Europe | Austria | Tyrol | 4.5 | 4 | 3.5 | 3.25 | 3.25 | 4 | 0 | 0 | 3.75 | 4 |
| Lienz | Europe | Austria | Tyrol | | | | | | | | | | 0 |
| Hintertux | Europe | Austria | Tyrol | 4.6 | 4.45 | 2.85 | 3.25 | 3.1 | 3.5 | 4.17 | 3.8 | 3.71 | 20 |
| Kaunertal | Europe | Austria | Tyrol | 4.33 | 3.33 | 3.33 | 2 | 2.33 | 0 | 4 | 0 | 3.22 | 3 |
| St. Johann in Tirol | Europe | Austria | Tyrol | 4.18 | 3.91 | 3.55 | 3.09 | 3.91 | 4.55 | 0 | 2.67 | 3.69 | 11 |
| La Tania | Europe | France | Northern Alps | 3.75 | 3.75 | 2.75 | 2.25 | 3.25 | 3.67 | 2 | 3.5 | 3.11 | 4 |
| Korbielow | Europe | Poland | Silesia | | | | | | | | | | 0 |
| Bialka Tatrzanska | Europe | Poland | Lesser Poland | 4 | 2 | 3 | 1 | 2 | 4 | 0 | 0 | 2.67 | 1 |
| Szczyrk | Europe | Poland | Silesia | 4 | 3.4 | 3.8 | 2.2 | 2 | 4 | 0 | 1.5 | 2.99 | 5 |
| Zieleniec | Europe | Poland | Silesia | 3.5 | 3 | 3 | 2.5 | 3 | 4 | 0 | 2 | 3 | 2 |
| Zakopane | Europe | Poland | Lesser Poland | 3.2 | 3.6 | 3.2 | 3 | 4.2 | 3.67 | 1 | 2 | 2.98 | 5 |
| Czarna Góra | Europe | Poland | Silesia | 3 | 3 | 4 | 2 | 2 | 3 | 0 | 0 | 2.83 | 1 |
| Szklarska Poręba | Europe | Poland | Silesia | | | | | | | | | | 0 |
| Bukovel | Europe | Ukraine | Carpathian Mountains | 3.94 | 3.5 | 4.12 | 3.06 | 3 | 4.17 | 3.25 | 2.09 | 3.39 | 16 |
| San Pellegrino | Europe | Italy | Trento | 4.14 | 3.71 | 3.29 | 2.57 | 3.14 | 4.2 | 0 | 3.25 | 3.47 | 7 |
| Prato Nevoso | Europe | Italy | Piedmont | 4 | 3.4 | 3.2 | 4 | 4.2 | 4 | 3.8 | 3.8 | 3.8 | 5 |
| Zauchensee | Europe | Austria | Salzburg | 4.4 | 3.8 | 3.6 | 2.4 | 2.4 | 4.4 | 0 | 2 | 3.29 | 5 |
| Oetz | Europe | Austria | Tyrol | 4.33 | 3 | 3 | 3.33 | 3.67 | 4 | 0 | 3 | 3.48 | 3 |
| Neukirchen | Europe | Austria | Salzburg | 4.5 | 4 | 4 | 2.5 | 3.5 | 4.5 | 0 | 0 | 3.83 | 2 |
| Praz de Lys | Europe | France | Northern Alps | | | | | | | | | | 0 |
| Brigels | Europe | Switzerland | Graubunden | 4 | 3 | 3.5 | 2 | 3.5 | 4 | 0 | 3 | 3.29 | 2 |
| Steibis | Europe | Germany | Bavaria | 4 | 3 | 4 | 2 | 3 | 0 | 0 | 0 | 3.2 | 1 |
| Borovets | Europe | Bulgaria | Sofia | 3.83 | 3.17 | 4.5 | 3.33 | 3 | 4.2 | 2 | 3 | 3.38 | 6 |
| Gudauri | Europe | Georgia | Mtkheta-Mtianeti | 4.08 | 3 | 4.58 | 2.33 | 2.42 | 3.71 | 2.78 | 4.73 | 3.45 | 12 |
| St. Johann-Alpendorf | Europe | Austria | Salzburg | 4.22 | 3.78 | 3.56 | 2.89 | 3.89 | 4.25 | 4 | 3.2 | 3.72 | 9 |
| Golm | Europe | Austria | Vorarlberg | 4.33 | 3.67 | 3.33 | 2.67 | 2.67 | 0 | 0 | 4.5 | 3.53 | 3 |
| Gargellen | Europe | Austria | Vorarlberg | 4.5 | 4 | 3.5 | 2.5 | 3 | 0 | 0 | 4.5 | 3.67 | 2 |
| Brand | Europe | Austria | Vorarlberg | 3 | 4 | 3 | 2 | 3 | 0 | 0 | 3 | 3 | 1 |
| Silvaplana | Europe | Switzerland | Graubunden | 4.67 | 4.67 | 2.83 | 2.83 | 3 | 3.5 | 3.5 | 4 | 3.62 | 6 |
| St. Gallenkirch-Gortipohl | Europe | Austria | Vorarlberg | 4.85 | 4.31 | 3.15 | 3 | 3.08 | 4.25 | 4 | 4.58 | 3.9 | 13 |
| Combloux | Europe | France | Northern Alps | 4 | 4 | 2.75 | 3.25 | 3.75 | 4 | 0 | 0 | 3.62 | 4 |
| La Pierre Saint-Martin | Europe | France | Pyrenees | | | | | | | | | | 0 |
| Disentis | Europe | Switzerland | Graubunden | 4 | 4 | 3.33 | 2.67 | 3 | 4.5 | 0 | 3.5 | 3.57 | 3 |
| Haus im Ennstal | Europe | Austria | Styria | 4.67 | 3.83 | 3.17 | 3.33 | 3 | 4 | 0 | 2.67 | 3.52 | 6 |
| Bubakov | Europe | Czech Republic | Hradec Králové | 4 | 2 | 4 | 2 | 2 | 4 | 0 | 1 | 2.71 | 1 |
| La Foux-Val d'Allos | Europe | France | Southern Alps | 4.25 | 3.5 | 3.75 | 2.5 | 2.75 | 4 | 4 | 3.67 | 3.55 | 4 |
| Ehrwald | Europe | Austria | Tyrol | 4.33 | 3.67 | 3.33 | 3 | 3.67 | 3.5 | 4 | 2 | 3.44 | 3 |
| Champagny | Europe | France | Northern Alps | 4.4 | 3.8 | 3 | 2.6 | 3.4 | 4 | 3 | 4.2 | 3.55 | 5 |
| Novako | Europe | Czech Republic | Karlovy Vary | | | | | | | | | | 0 |
| Sillian | Europe | Austria | Tyrol | 4.33 | 3.67 | 3 | 2.67 | 3 | 4 | 0 | 4 | 3.52 | 3 |
| Roccaraso | Europe | Italy | Abruzzo | | | | | | | | | | 0 |
| Bansko | Europe | Bulgaria | Blagoevgrad | 4.09 | 3.36 | 4.36 | 3.09 | 3.18 | 4.12 | 3 | 2.67 | 3.49 | 11 |
| Pamporovo | Europe | Bulgaria | Smolyan | 3.78 | 3 | 4 | 2.44 | 3 | 3.5 | 2.75 | 3 | 3.18 | 9 |
| Les Mosses | Europe | Switzerland | Valais | | | | | | | | | | 0 |
| Janov nad Nisou | Europe | Czech Republic | Lyberec | 3 | 2 | 3 | 2 | 2 | 4 | 0 | 0 | 2.67 | 1 |
| Sonnenkopf | Europe | Austria | Vorarlberg | | | | | | | | | | 0 |
| Hinterstoder | Europe | Austria | Upper Austria | 5 | 3 | 4 | 2 | 3 | 4 | 0 | 4 | 3.57 | 1 |
| Aillons | Europe | France | Northern Alps | | | | | | | | | | 0 |
| Malbun | Europe | Liechtenstein | Vaduz | 5 | 3 | 3 | 3 | 3 | 4 | 0 | 3 | 3.43 | 1 |
| Fiesch | Europe | Switzerland | Valais | 4.67 | 3.83 | 3.17 | 3 | 3.33 | 4 | 0 | 3.67 | 3.67 | 6 |
| Donovaly | Europe | Slovakia | Banská Bystrica | 3.5 | 3 | 3.5 | 2.5 | 2.5 | 4.5 | 4 | 2 | 3.19 | 2 |
| Gosau | Europe | Austria | Salzburg | | | | | | | | | | 0 |
| Ortisei | Europe | Italy | South Tyrol | 4.31 | 4.47 | 3.86 | 3.92 | 4.47 | 4.27 | 3.83 | 3.7 | 4.11 | 173 |
| Argentiere | Europe | France | Northern Alps | 4.17 | 4.33 | 2.5 | 3.17 | 3.83 | 0 | 0 | 3.67 | 3.61 | 6 |
| Feldberg | Europe | Germany | Baden-Württemberg | 3.5 | 3 | 3 | 2 | 2.5 | 4 | 0 | 0 | 3 | 2 |
| Savognin | Europe | Switzerland | Eastern Switzerland | | | | | | | | | | 0 |
| Bolsterlang | Europe | Germany | Bavaria | | | | | | | | | | 0 |
| Lachtal | Europe | Austria | Styria | | | | | | | | | | 0 |
| Rosa Khutor | Europe | Russia | Krasnodar | 4 | 3.75 | 3.25 | 3.25 | 3.75 | 4 | 4 | 3.5 | 3.69 | 4 |
| Cadipietra | Europe | Italy | South Tyrol | 4.1 | 3.9 | 3.8 | 2.4 | 3 | 4.3 | 4.25 | 2.89 | 3.58 | 10 |
| Hochzeiger | Europe | Austria | Tyrol | | | | | | | | | | 0 |
| Torgon | Europe | Switzerland | Valais | | | | | | | | | | 0 |
| Balderschwang | Europe | Germany | Bavaria | | | | | | | | | | 0 |
| Resia-Reschen | Europe | Italy | South Tyrol | 4 | 3.33 | 3.33 | 2.67 | 2.67 | 4 | 4 | 3 | 3.38 | 3 |
| See Paznaun | Europe | Austria | Tyrol | 4.5 | 4.25 | 3 | 2.75 | 3 | 4 | 0 | 3.33 | 3.55 | 4 |
| Auron | Europe | France | Southern Alps | | | | | | | | | | 0 |
| Spitzingsee | Europe | Germany | Bavaria | 4.5 | 2.5 | 3.5 | 2 | 2 | 4 | 0 | 3 | 3.07 | 2 |
| Innsbruck | Europe | Austria | Tyrol | 4.14 | 4.05 | 3.05 | 3.5 | 4.59 | 3.5 | 3.88 | 3.8 | 3.81 | 21 |
| Bellwald | Europe | Switzerland | Valais | | | | | | | | | | 0 |
| Luchon | Europe | France | Pyrenees | | | | | | | | | | 0 |
| Turracher Höhe | Europe | Austria | Carinthia | 4 | 3.67 | 3.67 | 3.17 | 3.17 | 4.8 | 4.33 | 4 | 3.85 | 6 |
| Gerlitzen | Europe | Austria | Carinthia | 4.5 | 3.5 | 4 | 3 | 3 | 4 | 0 | 0 | 3.67 | 2 |
| Erzurum | Asia | Turkey | Eastern Anatolia | 5 | 4 | 4 | 4 | 3 | 5 | 0 | 2 | 3.86 | 1 |
| Innerkrems | Europe | Austria | Styria | | | | | | | | | | 0 |
| Stoos | Europe | Switzerland | Lucerne region | | | | | | | | | | 0 |
| Airolo | Europe | Switzerland | Ticino | | | | | | | | | | 0 |
| Merano | Europe | Italy | South Tyrol | 4 | 4 | 3.17 | 3 | 4.83 | 4.33 | 3.33 | 3 | 3.71 | 6 |
| Campo Tures | Europe | Italy | South Tyrol | 3.67 | 3.67 | 3 | 2.33 | 3 | 4 | 0 | 0 | 3.28 | 3 |
| Gorky Gorod | Europe | Russia | Krasnodar | 4.33 | 4 | 3 | 2.33 | 3.67 | 4 | 0 | 4 | 3.62 | 3 |
| Dombai | Europe | Russia | Caucasus | 4 | 3 | 3 | 2 | 2 | 0 | 0 | 4 | 3 | 1 |
| Gourette | Europe | France | Pyrenees | 4.25 | 3.5 | 3.5 | 2.5 | 2.5 | 3.5 | 2.5 | 3 | 3.16 | 4 |
| Les Orres | Europe | France | Southern Alps | 4 | 3 | 4 | 2 | 3 | 0 | 0 | 0 | 3.2 | 1 |
| Les 7 Laux | Europe | France | Massif central | 3.5 | 3 | 4 | 2.5 | 2 | 0 | 4 | 3.5 | 3.21 | 2 |
| Metabief | Europe | France | Jura | 3 | 2 | 3 | 2 | 3 | 4 | 4 | 2 | 2.88 | 1 |
| Luz Ardiden | Europe | France | Pyrenees | 3 | 3 | 3 | 3 | 3 | 3 | 3 | 3 | 3 | 1 |
| Dragobrat | Europe | Ukraine | Caucasus | | | | | | | | | | 0 |
| Le Sauze | Europe | France | Southern Alps | | | | | | | | | | 0 |
| Bürchen | Europe | Switzerland | Valais | | | | | | | | | | 0 |
| Cairngorm | Europe | Scotland | Highlands | 3 | 2 | 3 | 2 | 2 | 0 | 3 | 0 | 2.5 | 1 |
| Heiligenblut | Europe | Austria | Carinthia | 3 | 3 | 3 | 3 | 3 | 3 | 0 | 4 | 3.14 | 1 |
| Geilo | Europe | Norway | Buskerud | | | | | | | | | | 0 |
| Kopaonik | Europe | Serbia | Šumadija | 4 | 4.33 | 3.33 | 4 | 4 | 4.5 | 4 | 4 | 4.02 | 3 |
| Poiana Brasov | Europe | Romania | Brasov | 4 | 4 | 4 | 3 | 4 | 4 | 0 | 0 | 3.83 | 1 |